The 10X Traffic Multiplier Technique
Traffic, traffic, traffic! That one thing that you absolutely must get daily, in order to generate subscribers and sales. Yea right. Perhaps you've been asking yourself "how do I generate more traffic to my website without Google or SEO?"
In this post, you'll discover simple techniques to generate up to 10 times more free traffic to every single article/ post you write, simply by  re-purposing one single blog post or article (at a time) into different content formats to produce different units of unique contents.
Disclosure: I learnt this free traffic generation method from Kim Roach's Traffic Dashboard.
8 Steps to Get Massive Free Traffic and Increase Number of Readers to Every Single Blog Post
, Without SEO
In my article traffic experiment, I mentioned how I observed low views (than I expected) from some of the  article I submitted. Considering that it takes a lot of efforts to write even one post/ article, if you're loke me, you'd want to do your best to ensure that every single content you write generates maximum traffic.
Now let's quickly dive into the hows of the 10X method of article traffic.
Step 1: Write One Article and Submit And Submit to 10 Article Directories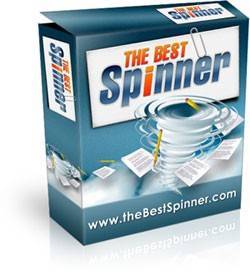 Write your (seed) article and submit your article to your blog and/or top 10 article directories (after rewriting them). You can use 'The Best Spinner' tool (image right) to save time with rewriting your main article one time and have hundreds of unique versions, in under a few minutes.
Submitting your articles to many article submission sites/ directories would get you more eyeballs on the one seed article, and overall a total traffic made up of traffic from every single article site you have an article. That is increased reach.
Imagine if you submitted your seed content to 10 article directories, if you get 10 views per article in 1 week (being modest here), that would be 100 views in 1 week from only a single seed article. In practice, you are likely to get up to 50 views per article before the end of a week, if you submit your articles on high traffic article sites.
Important: Good contents easily get shared – people retweet, email, share on Facebook and other channels. Your content has to be damn good if you want to attract. If you are going to be using these strategies I am sharing, it means you'd be able to cut down on the number of articles you produce because just one can bring over 1,650 visitors every month.
Warning: Before submitting your 10 articles, ensure to rewrite each one so that it's completely unique and original. Doing that, you will get your articles easily approved while preventing being penalized for duplicate contents, by the search engines.
Step 2 – Social Media and Social Bookmarking Blast to Increase Free Traffic To Articles
Now, take the URL of each article you submitted, and share on 30 Social Bookmarking Sites. You can do this manually, one by one OR you can use Ping.fm or OnlyWire to automate the task, so that when you share a site URL on Ping.FM/ OnlyWire, Ping.FM/ OnlyWire automatically shares the site on as many as 30 social media sites.
NOTE: You'll have to create accounts on the 30 social sites supported by Ping FM, in order to make this method work. The account creation is one time only.
Step 3 – Turn that Article into a PowerPoint Presentation (Indirectly Increasing Traffic To Main Article)
Paste the main points from the article content into a PowerPoint presentation and then submit that PowerPoint to the top 5 slide presentation (document) sharing sites such as slideshare.com, slideboom.com, authorstream.com and slideburner.com.
Ensure to add images in the slides and a link to your blog and the full article at beginning and end of presentation.
Now, you should have your contents in 10 article sites PLUS 5 slide sharing directories, making a total of 15 places.
Step 4 –Convert the Same Article to Audio Podcast For More Free Traffic
Turn that same article to an audio and submit to top 5 podcast directories like iTunes, odeo, podcastalley, podfeed and podcast.net.
There are 2 ways you can use to convert it to audio– record your voice or use a text-to-speech tool.
To do it yourself, use a free tool called audacity. Read your article aloud and record it using audacity.
You can use free tools to covert the article automatically to audio. If you have a blog, use odiogo blog plugin to automatically convert every single blog post to audio podcast.
To convert single documents, you can use readthewords.com to convert from various formats ( pdf, word etc) to audio.

Step 5 – Convert Article to Video to Increase Exposure 
Now convert that article to a video and distribute to top 5 video sharing sites like YouTube, metacafe and vimeo.
What you are going to do here is to merge that PowerPoint presentation and the podcast you created above to become a single media – video. Here are different ways to do this:
Use Camtasia (paid software) or Camstudio (free tool) to produce record a video of you presenting the main points in the powerpoint presentation. In this method, your audience will only see the PowerPoint presentation on the screen;
If you are camera shy, project the powerpoint presentation on the video while you record your voice in the background;
If you don't want to be seen or heard, then you can also use animoto (free tool) to do this. Here you'll only need your PowerPoint presentation and use a desirable sound file from animoto to create a video.
Next and very important is to submit your video to the top video sharing sites such as YouTube, metacafe and vimeo. You can automate your video submission with traffic geyser (paid) or tubemogul (free).
*Video is now big time, and I'm learning to start doing them. Video Marketing Blueprint is a great course to help you learn how to do videoas, podcasts and screencasts like a pro.
Step 6 – Tutorialize Article to Get Free Traffic From Tutorial Sites
Turn that same article to a how-to, step-by-step tutorial and submit to top 5 tutorial sites including ehow.com, tutorialized.com, good-tutorials.com,designm.ag.com
Step 7 – Convert Article to PDF to Get Traffic From PDF Directories
Convert your article into a PDF (like eBook) format and submit to top eBook directories such as free-ebooks.net, getfreeebooks.com
Step 8 – Distribute that PDF Content For Increased Traffic To Your Blog
Submit that same PDF to top document sharing sites like scribd and docstoc.
Want more of these kinds of unpopular traffic sources and methods, watch the free video tutorial of the 10X Traffic Method.
Now you can see how you can literally extend the power of just a single article and give it wings. Are you beginning to imagine how many unique visitors each of those sites can bring you every month?
HINT: If you use even a fraction of the tips inside "Turn Words to Traffic", you'll get even more visitors to every single content/ video/ presentation and podcast you distributed.
Now let's do the math –you'll get over 10 times more blog post or article views/ readers, up to 1,650 monthly views from just 1 article.
You've got 1 article repurposed to over 5 formats – video, audio, tutorials, PDF etc
Each article in various re-purposed format distributed to over top 5 traffic channels for each kind of document media (video, audio, pdf etc)
NOTE: Ensure to have your web/ blog URL in the audio/ video and PowerPoint presentation, so that readers and viewers/ listeners can get a chance to visit your blog. That's how those re-purposed content will send traffic back to your main site.
55 Free Traffic Sources. 1 Single Article = More Reader Views To Your Articles
10 article directories
20 bookmarking sites (assuming you only signed up with 20 of 46 bookmarking sites supported by ping.fm)
5 slide presentation sharing sites
5 podcast directories
5 video sharing sites
5 tutorial sites
5 document sharing sites
That is a total of 55 places that your one article has been distributed to, with a potential for each channel to send your article readers every month.
1 Seed Content. 30 Views Per Month X 55 Channels = 1,650 Views 
Assuming you get 1 view every day, per article/video/podcast
That means, one single content syndicated to 55 sites could generate a total of 1,650 views every month.
With this strategy, all you need to put more power into creating exceptional articles and blog posts instead of dissipating energy by creating low quality silo articles.
Imagine again using this content syndication strategy for generating traffic to most of your articles? That would be putting your article traffic generation on steroids.
Need More Methods to Increase Free Traffic to Your Article Submissions
By the way, credit for this 10X method goes to Kim Roach's Traffic Dashboard course – this is one of over 20 different unusual and unpopular traffic generation methods in that course. I tested this method with one article and just one of the over 50 distribution channels I shared with you here, that article got over 500 article views in two days. So I am eager to start exploring the other methods in one of the over 20 modules of Traffic Dashboard.
Finally…
I hope you enjoyed reading -this simple tweaks to increase traffic by 10 times, to every  article and post you write.  I look forward to hearing your success with implementing all the traffic strategies in this post and in the article traffic eBook.
To be sure you don't miss the next awesome post I write, you should click here to start getting all my posts right in your inbox.
Liked this Post?
Comment. I'd love to hear your results – leave a comment below.
Share it. Be sure to let your friends benefit from this post, by sharing it on twitter, facebook, digg, stumbleupon and more.Twitter, Facebook Stumbleupon, Digg…
Thanks for reading and I'll see you in the comments side.
Yours in more traffic power,
Stella
Photo by Honou