Creating A Lead Magnet eBook: Practical Steps To Write A Giveaway Short Report For Your Blog Readers
Have you written a giveaway eBook (aka 'lead magnet') to "gift" your loyal blog readers when they opt-in? If not, what do you give your subscribers, as a thank you gift for joining your list? If you do not have an eBook / free report as a lead magnet for building your email subscribers list, you are leaving a lot of subscribers to other blogs.
Are you a small or home business owner – selling or marketing a thing or two online? Are you giving something of value to your readers and subscribers? Do you know that you can significantly attract more audience (blog readers, subscribers, customers, and sales) simply by offering them something for free? An informational material such as a small eBook, report, software – in full or samples – can make them like you more and buy repeatedly from you, and even tell their friends (free promotions) about you.
You Can Encourage More Readers to Opt-In To Your List  When You Offer Them A Free eBook/ Report As Gift
Although aware of the benefits of creating a freebie eBook, many online marketers, businesses and bloggers see the idea as cumbersome and time consuming.  If only they knew there is an easy way to create their own free giveaway eBook in just a day, they'd write dozens of eBooks every month.
This post is a follow-up to "How to Increase Opt-Ins and Get More Buyers By Giving Away Free Reports". You may want to get the full benefit of this series by reading that post after this. Although the objective of this post is to provide a step-by-step process for bloggers to create their freebie giveaway offer to subscribers, you can also  use the steps herein for writing eBooks for profit.

 Why Should You Create An eBook?
The idea of creating a new free report or eBook discourages new and even existing entrepreneur who are building their business online with blogging. It's not their fault – there's too much to do and yet only limited time in every single day.
In this post, I am going to show you a quick fix to create a traffic pulling eBook in just 1 day and then have a quality eBook giveaway that your readers would find useful and you can use to attract more subscribers to your opt-in form. Read on but be sure to have your computer ready to do every step in this post, while reading. It is advisable to print out this post first so that you do not have to switch between windows on your computer.
Below are steps to a quick and easy way to create your own free giveaway report. To make this easy to follow, I have written two different methods for two target categories of audience: (i) People just starting out on their blogs and have only but a few posts or just beginning to create posts for their blogs and (ii) people who have blogs with more than a few contents.
Step #1a – Method 1: For Older Blogs With A Couple of Contents
eBook Creation Method for Older Blogs
If you are not just starting your business blog, it's so much easier to create your own free offer, and you can write an eBook to use as your free offer. An eBook is simply a collection of related topics that make up a theme, presented in a coherent order.
Find Most Popular Posts: Find your top, most popular posts and/ or most commented posts (that is based on topics most loved by readers)
Find Related Posts: Find 2 to 3 of your most popular posts that are related or serialized.
Merge them: Take the most popular posts that are related and knock them together in a coherent order. Use a Word processing document (MS Word, Open Office or similar). Congrats, you've just written your eBook. Didn't I tell you it was easy and would be fast?
Step #1b – Method 2: For Fresh New Blogs With Few or No Contents
eBook Creation Method for New Blogs
The steps below are for people who have just started their blog and do not have lots of contents yet. However if you have up to 10 posts you can still use the above steps to quickly create your own free giveaway report.
OPTION #1: Create Your Own Contents
Here's a secret – if you take off time to do this, you can even reuse and repurpose the contents in the eBook for your blog posts – so you win both ways – got new free report PLUS new blog contents. No time lost!
Main Topic Theme: Pick a theme to write your eBook on – think of one key problem that people in your market are struggling with and that you know how to fix. For example, the theme of my eBook could be "How to Write Your Own eBook in 1 Day".
Structure or Outline: Get out the skeleton. Next, write 5 main points around that theme – what are the main ideas you would like to share.
Expand on Your Points: Here's about putting flesh (contents) onto that skeleton (outline). Now take the main points one after another and fill them in. Start writing what you want share with your readers on that main point.
Start writing – write fast, as if on impulse – just pour down every idea and and edit later.
What are people talking about on that subject? Do a few research to see what others are talking about related to that topic. If you need help here, read my post on how to listen to what people are talking about on a subject. Do a Google search on a Keyword for your them and look under the discussion (left panel) – check out the questions people who actually want solutions are asking. This exercise can even give you ideas for new blog posts. Note: The idea here is not to deflect to other people's content – just to get a few ideas about shaping your contents – such as picking up a few buzz words around it that can contribute to hot keywords: that's why it's the last step in this section.
Editing: Spell check and edit your document .
OPTION #2: Buy Cheap Ready-Made Contents (PLRs) and Rewrite To Sound Like You
This option is great for you if you work full time, or for any other reason, do not have time to write your eBook contents. You can purchase pre-written articles or reports, and then tweak them to make them uniquely yours. For where to find affordable pre-written articles on any topic of your choice, click the image below.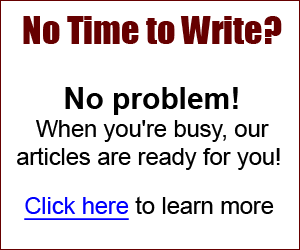 Step #3. Placing a Twitter Share Button In Your eBook
Follow the steps below to make it easy for other people to want to share your giveaway eBook/ short report (i.e your lead magnet).
Insert retweet buttons inside your new eBook.

Michael Stelzner of Social Media Examiner

has written one of the best how-to posts about doing this and these were the instructions I used while creating my own eBooks.
Your contents are now ready. Yay! Next thing is to dress your new giveaway eBook – make your eBook attractive and convert it to PDF.
Some businesses have mastered the art of turning their prospects and customers to their referal engine, so that their a large percentage of their sales comes purely from other people freely promoting their products and services – it's an art that you can also learn to apply in your own business. (Source: The Referral Engine – the link is at end of this post).

Step #4. Packaging Your eBook: eBook Layout – Portrait or Landscape?
The only factor to decide a layout is the readers' comfort.
I love the Landscape layout (i.e. sideways, wide) as it makes a book more readable, providing more read space than the portrait. Portrait is the usual straight up, length-wise format.
The whole idea is to use a layout that makes reading easy on the eyes. I have found landscape to do it for me – it's kind of best for online reading because it displays one full page at a time, so that the reader is rid of scrolling several times to read a single page. In addition, the display comes with a nice zoom that is easy on the eyes.
I sometimes use portrait layout for very short reports.
In MS Word 2007, you do that from page layout >>Orientation >>Landscape
I've got lots of my eBook readers telling me they just love the layout I use and I thought it'd be a good idea to share it here.
**If you want to see what the layout looks like, check out one of my eBooks.
Step #5. Making Your Short Report / eBook Easy To Read – Fonts and Formatting
Again, the focus is on making the eBook easy-to-read. You can use font formats to make your eBooks appealing or enticing to read. Font formats play with ease on the eyes of readers.
Here are a few formatting tips you may want to use – they make reading online easy on the eyes. Ensure your formatting is uniform all
Font Type: Arial, Verdana,
Font Size: 12
Heading Styles: Heading Styles 1, 2, 3 for Major headings, sub and sub-sub headings.
Paragraph Spacing: 1.5
Step #6. Title Your Short Report/ eBook – Make It Compelling For Anyone To Desire It
Now that you have your whole eBook contents put together, you will need a name for your eBook.
Give your eBook an attention grabbing title. You may want to write a list of 5 titles and get friends or even readers to vote for the best one.
Step #7. Create eBook Table of Contents – Make it Searchable
Readers love it when a book is scan-able – make it easy for them to quickly hop on to specific sections of your book.
Don't you just love it when you are looking for a quick fix and you pick up a book only to quickly locate a sub-topic that relates for what you are looking for? That's what a table of contents would do for your eBook – they lead a reader to page numbers of topics within a book.
Some authors do not include Table of Contents; you may decide to include it or not.
However, if you decide to create a Table of Contents, here's how to do that in Microsoft Word: Click References >>Table of Contents
Step #8. Give Your Short Report/ eBook an Appealing Front Cover Page
With Microsoft Word you can quickly create nice covers from their inbuilt templates.
Here's how to do that – Click Insert >>Cover Page (then select the one you like).
**Note: After selecting a cover page, you can replace the graphic image from Microsoft Word cover page with yours. Just click the image, delete and then paste the one you have somewhere in your laptop.
Step #9. Create an eCover for Your eBook
You may want to skip this step for now, it's not compulsory – at the time of writing this tutorial, I only managed to create an eCover for only one of my eBooks, and plan to create other eCovers later. 
Note that this post is about creating your own eBook in just one day so we are not going to use any complex design tool here.
Do-it-yourself Method #1: One method is to take a screen capture of the cover page you created in the step above and paste it where you need to use an eBook cover. It would suffice in many cases. Jing (by Techsmith) is an excellent free screen capture tool – I use it too.
Do-It-yourself Method #2: MyeCovermaker.Com is a cool website where you can create quick eBook covers for your eBook free – does not require any learning curve and is fast and easy to use – simply select one of the free eBook templates they have, upload an image for the cover (if you have one, if not just use theirs).

They have on-screen instructions you can follow.
If you are too busy to create your own eBook, you can outsource your eCover design to a freelancer on Fiverr OR use the services of Vaughan, who creates eBook covers for many top marketers, at affordable rates (see his eCover samples on the left image).
Step #10. Insert Your Blog Links (URL) In To The eBook
Insert the URL to your blog or website somewhere in the eBook. You may want to do this in the page footer or within the "About Author" area.
It's neater to wrap your links to a phrase or keyword instead of having plain open "www.YOURWEBSITENAME.com". Do this by selecting your blog name and then clicking the "insert link" option so that when readers click that word they are automatically taken to your blog.
Step #11. Write An "About Author" Page – Don't Be A Stranger to Your eBook Readers
If you have an "About Me" description on your blog, you can simply summarize it and paste in your eBook.
I have seen some authors place their "About Author" pages at the beginning of their eBooks while some place it at the end of their eBooks.
If you already have got some some success stories and testimonials in your niche, keeping your 'About Author' in the beginning pages, before or after the Table of Contents.
If you are just starting out, you may want to first put your best contents upfront and place your "About Author" at the end of your eBook, so that readers can judge you (as a value bringer first) from your contents – if they accept your contents and find value in it, they will accept you as a brand and an upcoming authority in the market.
You may want to look at my own expanded "About Me" page for this blog, to get an idea for yours. Note that on eBooks and free reports, I condense my "About Me" to about 2 medium sized paragraphs.
Step #12. How to Convert eBook to PDF and Still Retain Clickable Links (URLs)
Ensuring to use a PDF converter that keeps your links clickable.
Clickable links make it easy for readers to go to your website and take the next action
Here are few PDF converters that preserve hyper-links (URLs):
Free Microsoft PDF plugin for computers with Office 2007 and above installed. I use this and love it because it creates very white pages and nice reading layout. It's an Adobe Air programme so first get Adobe Air program installed before getting this – it's a fast install and also free.

Free version of Primo PDF

OpenOffice.Org
Step #13. How To Upload Your eBook – Give it a Home
Now that you're done with packaging your eBook/ short report, where would you store it? You need a place to store your eBook on your blog and you need the link to that place to give out to people to download your free report.
This is the download link you will give people or send your subscribers to download.
There are two ways about hosting your eBook – on your blog's server or a cloud storage.
Housing your eBook on Your Blog Server: Mitz of Websitebuilder.com has one of the simplest easy to follow steps and videos to upload your pdf to your wordpress blog server. Again this is the same steps I used to do mine. Click here to follow the steps to upload your new eBook to your hostgator server.
Note: if you use another hosting platform (not Hostgator), the steps would be slightly different. However, you can also upload your eBook or any document to your server using any FTP (Filezilla or similar) .
On Cloud Storage: As time goes on, you may create more eBooks and may want to house some outside your blog server.  I have a few eBooks and have now now stored some on Dropbox cloud storage which gives free 2GB space and you can lock any document you do not want the public to see.  Every document stored gets a link (URL) which you can give people to download from – that's what I do for most of my eBooks.  You can get your own Dropbox free 2GB storage here http://db.tt/JqaJGCv.
Step #14. Make a Shorter Version of Your eBook Link
Shorten the long eBook link: You would see that the download link to your eBook is long, I am sure you'll want a prettier, shorter version of the same link.
Get a pretty link version of your eBook's long download link before giving the links to people. Use Bit.ly to create short smart, prettier links.
What you do here is to enter bit.ly in your browser address bar

Then paste your long (ugly) eBook link and wait a few split seconds for bit.ly to give you a shorter version of the link.
**You'll need bit.ly again and so it's a good idea to signup (free) so that bit.ly keeps a record of all the links you'll shorten and the click analytics in one single place.
Step #15. How to Track Number of eBook Downloads
Apart from making eBook download your link prettier and shorter, bit.ly also keeps a track of the number of people that click and download your eBook. Any time you sign into your bit.ly account you'll see a record of clicks your eBook download link has got – an indication of how many people downloaded it.
Step #16. How to Increase Your Subscriber List With Your Free eBook
Now that your eBook / free report is ready, one way to use it is as a lead magnet. Successful bloggers / online marketers are always building their lists. They use free reports  to encourage and entice their readers to sign up to their list. That makes it a win-win situation.
If you'd like to build your lists using your free reports, do not give away your eBook PDF download link yet. You are going to create a bridge for your readers to pass to download – that is an opt-in form.
If you already have a subscribers opt-in form on your sidebar, it'd be a good idea to tell your readers to "get your free report by subscribing to your list" or "subscribe to your list and get your free report" —write this in a way that'll compel anyone to want to download your eBook before leaving your blog.
**If you do not have a subscriber form yet on your blog or if you've not started building your own (customer) list, I've got your back – it's easy and you can learn how to do it quickly from this post: Top 10 Effective List Building Strategies to Increase Your Subscriber Base This Year.
That's it! Congratulations, you now have a free giveaway for your readers and would never again ask (for email addresses) without giving something upfront.
You'll want to learn how giving away your new eBook/ report to your readers, for free can increase subscribers and sales. Click here to Discover how giving away free gifts can inccrease lead generation and sales.
Step #17. Promote Your eBook For Free
You are done. Congratulations, if you got this far.
Promote it. Now go tell the World about your eBook – s

hare your eBook short link on Twitter, Facebook, forums and everywhere you think the audience will benefit from it (that's hoping your book shows people how to solve a problem).

Other places to share your eBooks for traffic include scribd (I love this), slideshare, docstoc, eSnips,

free-ebooks.net and

getfreeebooks.com.

I'll share more places to promote your eBooks for free, in a future post.

Give your Free Report to your subscribers. Be sure to let your readers know they'll get your free eBook simply by subscribing to your blog newsletter. Include this message on your opt-in form.
Track download.

Once in a while go check the number of people that have downloaded your eBook – note that the proportion of

download you'll get is proportional to the level of people you exposed your link to. Lesson: Don't get stuck on checking your download metrics; instead focus more on sending people to your eBook link – share it, share, share…
Liked this Post on Fast eBook Creation?
That's my Definitive Guide to Creating An eBook or Report for lead magnet. I tried to make it very comprehensive and hands-on so that you won't miss out any steps to creating a lead magnet to build your list.
Comment. I would love to know about your new eBook and how wild it's spreading. Leave me a comment below and I'll definitely respond. Did I miss anything or do you have any twist to creating an eBook in one day? I'd love to hear it and I'm sure your insights would also help a few people.
Share it. If you picked a thing or two from this post, chances are your friends will also benefit from it. Why not click the share button(s) below and share this post via email, on Twitter, Facebook Stumbleupon, Digg…
Thanks for reading and I'll meet you up in the comments side below.
Yours in success,
Stella
Photo by nate steiner @flickr.com/photos/nate/