4 Simple Methods For Generating A Huge And Effective Keyword List Using Familiar Free Tools
Are you a beginner or not-so-beginner online writer and just beginning to understand Search Engine Optimization (SEO) or learning keyword research? Good SEO and keyword research starts with generating a list of good, related and relevant keyword list – there's no other way around it. In this post, you'll discover how to use simple and familiar free tools (that you probably already know and use in other ways) to generate a huge list of related and highly relevant keyword list, as part of your keyword research for content or blog / website SEO.
Why Build Keyword Lists?
They say that the money is in the list. That's correct BUT another (real) truth is that more money is in the Golden keywords within your contents; keywords that lead the desperate, willing and hungry buyers who have cash in hand, straight to your store front and promotional contents. More  prospects will join your list if they can find your posts when they search for information on the search engines.
So, if you're looking to sell any product or service online, you need to learn how to find a list of good, highly relevant keywords that the people who want to buy now are searching with. Else, even with an award winning content, a competitor with a poor content (but with the right keywords) will get the sale.
Writing your contents, naturally speaking with a group of related key phrases (aka keywords), will make it easy for any reader (and search engines) to 'place it' even without the title, while creating an opportunity to rank for multiple long tail keywords (more on that later). That's because your content will have a topic theme.
Now, you may be asking "when should I build a keyword list"?" You should build a keyword list when you want to write a post / article or when you want to determine content categories for a new website or blog.
Beginning Keyword Research: 4 Fast And Simple Methods to Generate Good Keyword Lists On The Fly
The goal of this post is to keep it really stupidly simple, as much as possible. This post is the second in the series to demystify Search Engine Optimization (SEO) for you (a beginner or intermediate blogger) and let you know that you too can rank high for competitive keywords in your market niche. You'll soon discover that SEO is only scary either because you're still far away or have not yet found a simplified approach to it.
This is the second in the series, Simplifying and Demystifying Keyword Research for Beginners.  In case you missed the other lessons, you can go to the links below later to read:.
Caveat: I'm not an SEO expert but I know a few non-complicated things about SEO and keyword research, that is working for me, that you can learn to improve your search engine rankings and free, organic traffic.
So, let's go dive in to the topic of the day, shall we?
NOTE: I suggest you follow this series by experimenting the steps in this post. You'll need to use an experimental post – so first decide on the title for your blog post/ article you'll conduct keyword research for.
Keyword Research Method 1: Brainstorming to Generate A Keyword List
Step 1: Brainstorm different possible phrases a searcher could possibly type in the Google search box
Ask yourself: "if I was to ask someone a question on this topic, what would I say? OR if I was searching Google, on information on this same topic, what would I type?
*For example here: I want to write on the topic that I titled my post: "How to find the perfect birthday gift for a friend"
NOTE: To practice these methods, start writing a draft blog post title to work along with. It doesn't have to be a serious post, you can even write a practice post on a notepad or Wordprocessor, whatever is comfortable with you – as long as you are practicing 'how to generate keyword lists' as you read this post.
Step 2: Write 5 different ways you would ask someone for information on that topic
If you had a limit of 2, 3 or 4 words maximum to ask your questions without losing the meanings, what would they be? From each of the 5 different ways you wrote, filter out most important key phrases (2 word key phrases, 3 word key phrases etc.)
Now back to my experimental blog title of: "How to find the perfect birthday gift", the 5 ways I could ask someone the question or type inside Google search box can be:
best birthday gift for a friend, best birthday gift, idea for best birthday gift, where to get nice birthday gifts, places for best birthday gifts
Thinking Sideways: This brainstorming keywords method of keyword research is so critical and essential to generating your 'seed keywords' but is often overlooked by many freelance writers and bloggers. In fact, my friend LaKesha Brown calls this method "the Thinking Sideways method" of finding click-magnetizing keywords. In her post, she illustrates with examples how to brainstorm long tail keywords.
*Hint: Long tail Keywords are those that are composed of 3 and above words in length. I use Traffic Travis to save time on generating keyword lists. It spits out hundreds of keywords for me in a matter of seconds. I highly recommend this tool. Once I got it, I never imagined how I managed without it.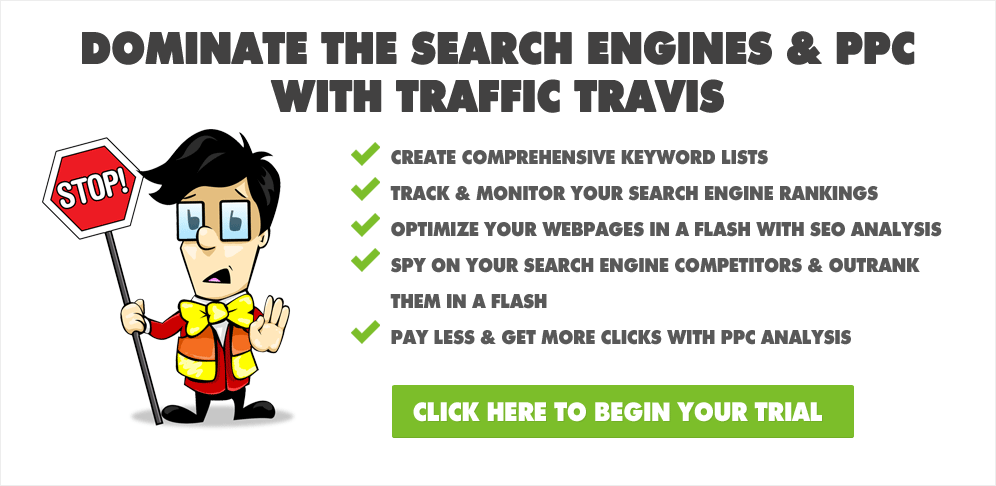 Step 3: Write your generated Keywords as a list
Take those brainstorm ideas (short versions) you got from step 2 above and write them down in a list, to give you your keyword list.
So, in my case, I'll have:
best birthday gift for a friend
best birthday gift
idea for best birthday gift
where to get nice birthday gifts
places for best birthday gifts
That is my keyword list. What's yours? Are you working along as you read this, if so leave me a comment and tell us your own keyword list you brainstormed.
Why would you generate a Keyword list, you may ask? As you can see, it took a bit of time to think through to create that list. So we'll need the help of a Keyword Research tool to generate more keywords faster. But they need seed keywords to give them an idea of what related keywords to return to us.
NOTE: You can use a thesaurus or synonym checker to generate more variations of that same question. For instance, another variation of:
"best birthday gift" could be "best birthday present" OR "nice / good birthday gift". I got those two variations from an online thesaurus, under "synonym".
*You can use Thesaurus.Com to find synonyms of your seed keywords.
Keyword Research Method 2: Mining List of Related Keywords From Google Search "Related Searches"
The second method for building targeted keyword lists is the Google "related searches" which is a feature inside the usual Google search results page.
For Google Search to present you with a related keywords list:
First you'll have to enter one of the key phrases (aka keywords) you brainstormed (aka 'a seed keyword') into the Google search box, as illustrated in the image below where I entered my seed keyword 'birthday gift';
Next is to look on the left hand sidebar for "Related Searches".  [Hint: Sometimes you'll not see "related searches" but will see "more search tools" which will expand, if clicked, to show you the 'related searches' tab;
Take a look at the image below, on the left hand side – the area highlighted in red is where you'll find and click "related searches"
Then look up your search results page to find a set of more related keywords that Google presents you with, under "related searches" (as shown in the second image below);
I love this method and use it every time I want to write a post, to have an insight into the different variations of search terms for my keyword. This method generates lots of really long tail keywords (that is, any keyword made up of three or more words).
Hint: Long tail keywords get more traffic because fewer online writers use them in their contents; therefor you'll find it easier to rank on top Google search results page if you write your articles with them (low competition).
Conclusion
That's it for today on Starting Keyword Research: How to Build Good Keyword Lists. As I mentioned in the previous post, we'll cover only a few methods in each post of our series on "Demystifying Keyword Research".
Where we are so far: Those are only 4 out of the 8 simple and fast keyword research methods I'll cover in this beginner series.
Where we're going: We'll also cover how to write in keywords, so save those keyword lists you researched in today's exercise because you'll need them to create a Search Engine Optimized (SEO) content, when we get there.
Practice makes perfect. Let me emphasize again that, the only way you'll know how to do keyword research is if while you read the posts in this series, you're experimenting it along. So, practice through your reading this post so that you will know it.
What to do with your keyword list when it's all ready? We have four more simple methods for generating good keyword lists, and after that we'll learn how to use the keyword list we generated to write a Search Engine Optimized (SEO) blog post or article that will get lots of free traffic from the search engines and also rank well.
Once you learn a couple of simple keyword research methods, you will have a choice of tools to use on the fly when you're in a hurry or hen you have a lot of time for keyword research.
Your Next Steps to Action…
Congratulations, if you practiced along with this tutorial. Now that you know how to generate keyword lists manually, you'll want to do it faster the next time – so be sure to get yourself a keyword research automation tool.
You can get the $1 trial of Traffic Travis (one of the cool tools I use) to test and see the difference between manual and automatic keyword research.
Finally, thanks for reading and I hope you found value in this post. In the mean time, before you go I'd like you to help me do two things:
1.) Comment: I always love to hear your feedback on my posts – did I miss anything? Did this post answer your questions? What keywords did you find using the above methods? Even if you have nothing to say, simply leave your footprint behind to let me know you were here and read this post:)
2.) Share this post: Stumble it, Facebook it, Tweet it, Digg it, email it… You can do that in one click with the easy share buttons below or floating to the top left.
I'll see you in the comments side (down below).
Yours in increasing blog search visibility with keyword list building,
Stella